Important Exhibit Information
Please allow 60-90 minutes to view the exhibit.

Passes All passes and vouchers issued by the Detroit Science Center that are due to expire. May 28, 2007 will be honored through January 6, 2008.
· The first exhibit entry time is 15 minutes after the Science Center opens.
· The last exhibit entry time is 90 minutes prior to closing.
Last Exhibit Entry Times
Mon-Fri. Last entry time: 1:30p.m.
4th Friday of the month: Last entry time: 7:30p.m.
Saturday and Sunday - Last entry time: 4:30p.m.

Exhibit Policies
· No gum chewing, cameras or recording devices are allowed in the exhibit.
· Sketches – Due to expected traffic volumes, sketching will not be allowed in the exhibit except for
special designated 'sketch hours', which will be Mondays, 12:00 pm – 3:00 pm ONLY.
Art and Medical students are encouraged to sketch at these times, but should be aware that regular
visitors will be viewing exhibit pieces, which may from time to time block the sketcher's view.
OUR BODY: THE UNIVERSE WITHIN EXHIBITION EXTENDED THROUGH
JAN. 6, 2008 AT THE DETROIT SCIENCE CENTER
Exhibition Features Five New Full Human Bodies;
Continues to Draw Record-Breaking Crowds to the Museum
As part of the extended run, the Our Body exhibition features five new full human bodies not previously displayed in Detroit. The exhibit is comprised of 20 actual human bodies and 135 anatomical displays preserved through a process of polymer impregnation that replaces fluids with polymers that prevent decay and decomposition.

Our Body: The Universe Within is the highest attended traveling exhibition ever to be presented at the Detroit Science Center. As of Aug. 23, more than 200,000 visitors have experienced the exhibition, surpassing the blockbuster 2003 run of Titanic: The Artifact Exhibition.
"Our Body: The Universe Within has been an extremely well-received exhibit for the Detroit Science Center," says President & CEO Kevin F. Prihod. "We've seen a record number of visitors walk through our doors. By extending the exhibition run, and featuring five new specimens, we will have the opportunity to serve more visitors and provide them something new to see in this one-of-a-kind exhibition."
Our Body: The Universe Within exposes the inner workings of human anatomy by presenting actual human specimens, anatomical displays, reproductions of historic anatomical artwork and much more. By presenting an artful, compelling and dignified environment, guests can connect with the human artifacts on a personal level that helps them to better understand their own bodies.
The exhibit literally, as well as figuratively, goes "under the skin," exposing the intricacy of the human body and allowing the general public a look at what only doctors and scientists normally are allowed to see first-hand.
The exhibit's cutting-edge MicroWorld display features intensely magnified images of healthy and diseased skin, organ and cell samples. Visitors can investigate the microscopic forces that impact our health and discover the surreally artistic effect achieved by viewing these samples under extreme magnification.
In conjunction with the exhibit, the Science Center is showing the IMAX® Dome Theatre film The Human Body. Using innovative filmmaking techniques, combined with the latest medical and scientific imaging, The Human Body shows us the ordinary miracles that keep our bodies running at full steam from morning 'til night and the extraordinary marvels of life.
Our Body: The Universe Within is produced by the Universe Within Touring Company, LLC.
Exhibit Pricing
Tickets to Our Body: The Universe Within are $24.95 for adults, $22.95 for seniors and $19.95 for children. Science Center general admission is included.
This exhibit is recommended for children ages 13 and over. All children
12 and under must be accompanied by an adult.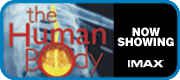 Enhance your visitor experience!
Add the IMAX® Dome Theatre film The Human Body for an enhanced experience! Tickets are an additional $3 for adults and $2 for children and seniors with the purchase of a ticket to Our Body: The Universe Within. School group admission is $14.95 per child. Adult groups are $19.95 per person. For more group information click here.
This exhibit is sponsored by:



OUR BODY: THE UNIVERSE WITHIN PRESS INFORMATION
Media, please click here to access press release.