Overnight Camp-Ins

Camp-Ins at the Detroit Science Center offer scouts hands-on fun in a one-of-a-kind learning environment. Each overnight program includes theme-related activities, a late night snack, nutritious breakfast and a morning Chrysler IMAX® Dome Theatre film. All participants receive a Science Center patch.

2011

Overnight Camp-Ins

Schedule

Costs: $30 per person

•

Time: 7 p.m. to 9 a.m.

Boys
Girls

Reach for the Stars

Jan. 21-22

Feb. 4-5

Feb. 25-26

March 11-12

CSI: Detroit Science Center

April 1-2

April 15-16
Plan a Private Scout Camp-In

Groups of 100 or more can choose any of our three Camp-In programs to create an exclusive experience at the Detroit Science Center
Dates are limited and a minimum lead-time of two months is required. Call today!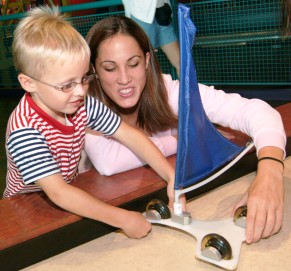 Camp-In Notables:
The Detroit Science Center requires a 1 adult/10 scout chaperone ratio for Camp-Ins. All
chaperones must pay the $30 Camp-In fee.

A minimum of 100 participants are required and a maximum of 200 participants are allowed
per Camp-In.


Balance and final count due two weeks before start of program.



All sales final and non-refundable.